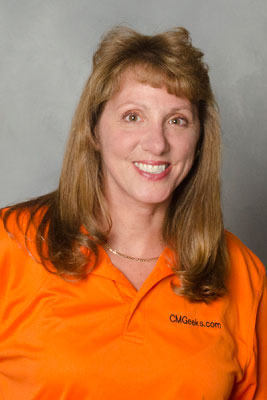 Contact Information
Nancy P. McKenzie
VP of Customer Support
(855) CMGEEKS
(508) 386-9769 Phone/Fax/SMS
About Nancy
Nancy has provided IT services since 1986 where she worked at Digital Equipment Corporation (DEC) holding various roles culminating as System Manager. After leaving DEC in 1998, Nancy was an IT Consultant at engineering companies including Civigenics, Quantum and Maxtor.
For nearly five years Nancy served the Rutland Police Department as Administrative Assistant to the Chief. There she was exposed to the infrastructure and software systems necessary to running local departments and municipalities.
Nancy then returned to the IT business, joining CMGeeks.com as its second member. There she served local departments and municipalities, as well as small businesses, using her unique skill set grounded in customer support.
Currently Nancy continues to serve CMGeeks, Inc. as its VP of Customer Support.